We begin by extending a very warm welcome back to Heimtextil. Following two extremely challenging years of disruption, we return with renewed energy and a fresh motivation to champion a cleaner, greener, more planet-friendly textiles and interiors industry.
Hall 9.0, Trend Space
Textiles and materials are an integral part of our lives. They wrap and adorn our bodies, make our homes comfortable, welcoming, and beautiful, enhance our workspaces, and so much more besides. They provide the tactile comfort and stimulation that human beings crave.
The textiles industry draws its raw materials from a huge number of sources and uses many processes to produce an infinite variety of products. This diversity makes it one of the most problematic in terms of the climate emergency. Conventional cotton production, for example, covers 2.5% of the world's cultivated land – and consumes 24% of its insecticides and 11% of its pesticides, costing 2.6 billion in dollars and so much more in degradation of ecosystems and biodiversity.
We have a responsibility to examine our processes, and change for the better. Where do we source our materials, and how do we process them?  Where do our products go at the end of their lives? How do we build in reuse and repurpose? We need a long-term vision to change our relationship with the planet, and drive a positive future.
"As a nature-positive solutions framework, the circular economy brings answers to the interconnected biodiversity and climate emergencies: leading companies are starting to harness the opportunities it offers, and scaling up circular innovations is now a priority."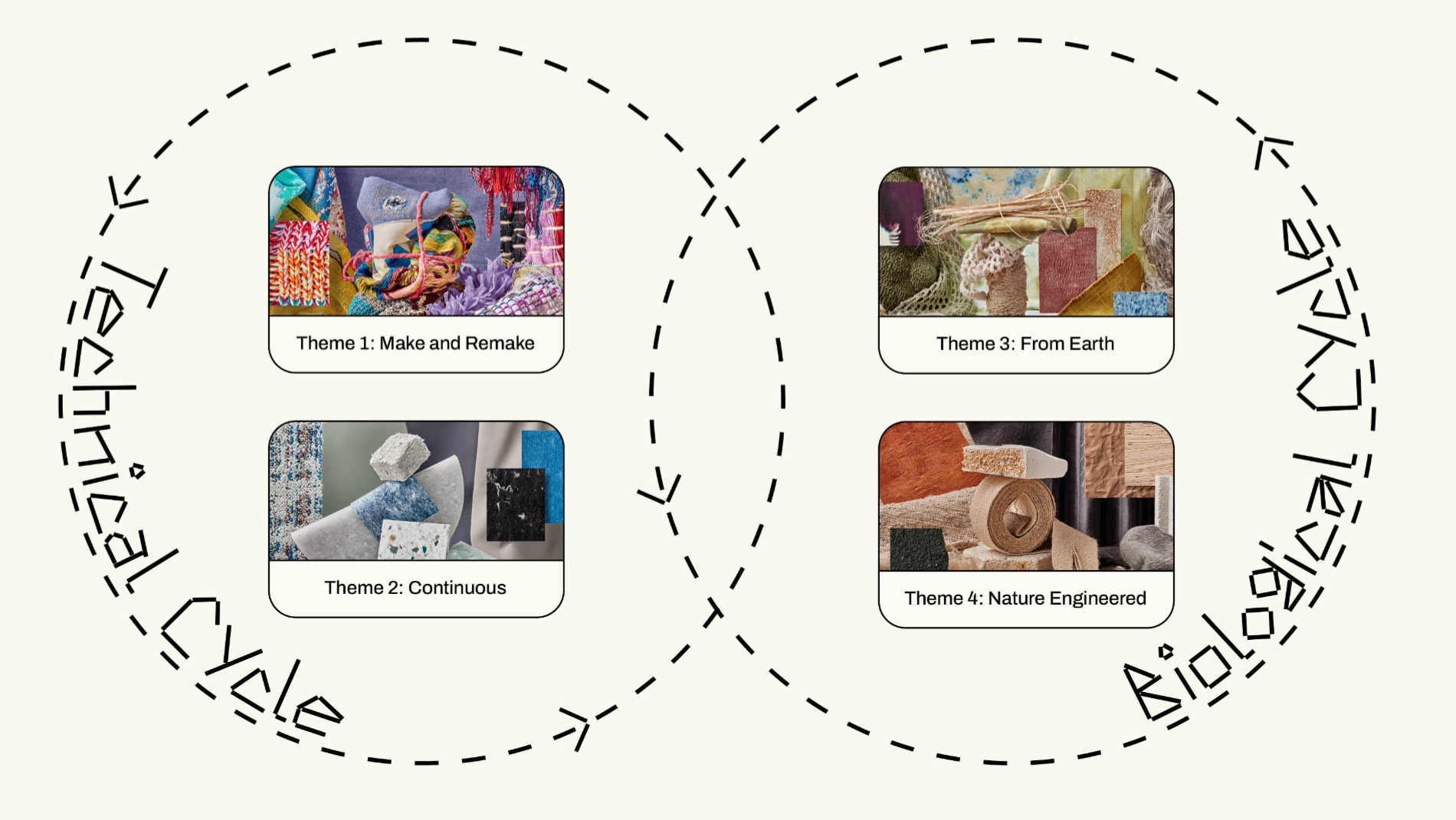 One of the most important things the textiles industry can do to achieve significant, meaningful change is make the shift towards circularity. In a circular system, materials are repurposed again and again, in a circle of use that dramatically cuts the use of the earth's resources, as these remain in an endlessly productive loop.
The technical cycle applies to inorganic materials such as nylon, polyester, plastics and metals. These can be reused many times when optimally recycled – with no loss of quality.
The biological cycle applies to organic materials that come from nature and can return to the earth at the end of their useful life.
Circularity is moving beyond niche experimentation to become a genuine, actionable and exciting game changer that can tackle many of the industry's issues. It's time to think circular …
Discover the Textiles Matter themes
This edition of Heimtextil explores four key routes to circularity. Thinking about the technical cycle, Make and Remake considers how we can extend the lives of existing materials and showcases how beautiful reclaimed and remade textiles can be. Continuous highlights innovative approaches to closing the loop, alongside zero-waste textile regeneration and low-impact product life cycles. Thinking about the biological cycle, From Earth explores textile design that reconnects us to nature, and revisits traditional natural fibres and dyes. Nature Engineered reveals how nature and engineering can come together to create textiles and materials that are simultaneously smart, functional, and kinder to the planet. 
Heimtextil Trend Council
The past two deeply unsettled pandemic years and the world-wide escalation of the climate emergency make the question "what does the future hold?" ever more pertinent. As always, the Heimtextil Trend Council sets out to combine inspiration with insight, drawing on research and analysis of relevant global socio-cultural trends to deliver design and colour directions for the 23/24 season. The council comprises three globally renowned agencies: FranklinTill Studio (Great Britain), SPOTT Trends & Business (Denmark), and stijlinstituut amsterdam (Netherlands). For 23/24, FranklinTill leads the development and creation of the upcoming Heimtextil trends presentation, with a focus on sustainability and circularity that invites us to step up and contribute to a better world – and offers optimism as well as actionable inspiration for the future.
_____________________________________________________________________________________________
Thank you to all contributors who submitted the work featured.
Directors Kate Franklin + Caroline Till
Studio Director Gina Stewart
Strategy Director Amy Radcliffe
Design Director Marta Giralt Dunjó
Senior Creative Strategist Britt Berden
Researchers Sarita Pannekoek, Grace Lister
Design Michela Zoppi
Photographer Pim Top
Assistant Photographer Kasper Boelens
Chief Sub-editor Hester Lacey
Sub-editor Katie Myers
Video by Lise Dessons
Sound by Alex McKevitt-Montgomery
Script Astella Saw
Some of the colours in this publication may deviate due to print techniques and are to be corrected according to PANTONE® Textile Colour System. PANTONE® and PANTONE® Textile Colour System are trademarks of PANTONE®, Inc. PANTONE®, Inc., 1984, 1992.
www.pantone.com
NCS – Natural Colour System®© is the copyright and trademark property of NCS Colour AB, Stockholm. Nearest NCS sample is based on visual assessment in accordance with SS 01 91 04 and may deviate from the NCS Notation due to these conditions. We refer to the Original NCS Colour Samples.
www.ncscolour.com
Representation of the RAL colours with approval by RAL gGmbH, Bonn. The brand RAL is a registered trademark. Only the individual cards of the registers RAL 840-HR and RAL 841-GL, the primary standards of RAL CLASSIC and the RAL DESIGN SYSTEM plus colour sheets shall be used for the binding production and control of RAL colours.
www.ral-farben.de

Special thanks to the textile and material contributors
Hero image:
Mycelium tile by Ty Smyl
Textile print by Raeburn
Textile dyed by Aliki van der Kruijs
Textile design by Nina van Bart
Material by Tjeerd Veenhoven
Material by Margent Farm