General information about Heimtextil, your participation in the trade fair as an exhibitor and coming to the trade fair as a visitor.
Opening times
Tuesday - Thursday: 9. - 11.1.2024
9 a.m. - 6 p.m.
Friday: 12.1.2024
9 a.m. - 5 p.m.
Entry prices 2024 for visitors
The trade fair is only open to trade visitors; there is no entry for private visitors. Payment in cash and distribution of samples is not permitted.
We recommend that you purchase your ticket in advance online in our ticket shop. This way you avoid unnecessary waiting times at the cash desk. The Shop will open in autumn 2023. Please also note that only cashless payments can be made there.
1-day ticket
in advance / Online
34,00 EUR
Onsite (cash desk)
46,00 EUR
reduced *

30,00 EUR

 
 
Season ticket
in advance / Online
60,00EUR
Onsite (cash desk)
90,00 EUR
 
 
Last Day Ticket / Only valid on 12 January 2024
in advance / Online
29,00EUR
Onsite (cash desk)
35,00EUR
 
* Students; we reserve the right to check the legitimation on site.

Free local public-transport with your ticket
All admission tickets (except complimentary tickets) include free travel using local public-transport services operated by the RMV public-transport authority throughout the entire area covered by the authority. Tickets purchased on arrival at the fair only entitle the user to travel back from Messe Frankfurt free of charge.
Please note: Vouchers must be exchanged for an admission ticket on the internet to be able to use local public-transport services operated by the RMV public-transport authority to and from the fair. The online ticket can only be used in the RMV public transport network in connection with a valid ID card or passport.

To RMV-Website
Important note: We would like to offer you the best possible personal service. Therefore, as of now, it is no longer possible to issue visitor tickets for other people than yourself. In your personal Messe Frankfurt login, you can purchase and manage your personal tickets in just a few steps. You don't have a personal Messe Login login yet? You can register here free of charge.
If you have any questions, please call +49 69 7575 – 0 or use our contact form.
Heimtextil App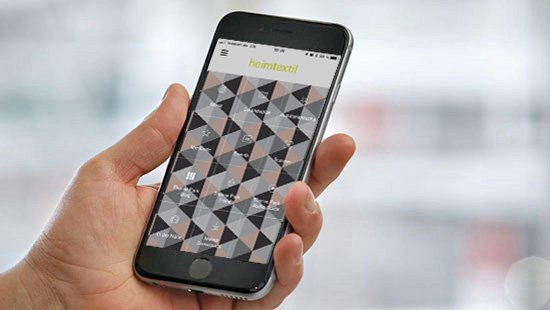 The App "Heimtextil Navigator" is the orientation guide for visitors of Heimtextil. With its help, you can find your way around the fairgrounds (Site and Hall Plan), through the Exhibitor and Product search or receive inspiration through news and twitter messages.Heimtextil Navigator is available for Apple-Products (iPhone, iPod touch, iPad) on the App Store and Android on Google Play Store as a free App.
Heimtextil Navigator on the Apple App Store
Heimtextil Navigator on the Google Play Store
Publications and Catalogue
Use the official catalogue to gain a complete and efficient overview of all exhibitors at the Heimtextil. Detailed information will support you for the preparation and review of your visit. Order the catalogue online.
The catalogue is going to be published a few weeks bevor the start of the fair as a print and a PDF.