General information about Heimtextil, your participation in the trade fair as an exhibitor and coming to the trade fair as a visitor.
SARS-CoV-2: Current information
Opening times
Tuesday - Thursday: 11. - 13.1.2022
9 a.m. - 6 p.m.
Friday: 14.1.2022
9 a.m. - 5 p.m.
Entry prices 2022 for visitors
The trade fair is only open to trade visitors; there is no entry for private visitors. Payment in cash and distribution of samples is not permitted.
One-day ticket
in advance
34,00 €
Heimtextil App
The App "Heimtextil Navigator" is the orientation guide for visitors of Heimtextil. Navigate over the fairgrounds (Site and Hall Plan), through the Exhibitor and Product search or receive inspiration through news and twitter messages.Heimtextil Navigator is available for Apple-Products (iPhone, iPod touch, iPad) on the App Store and Android on Google Play Store as a free App.
Heimtextil Navigator on the Apple App Store
Heimtextil Navigator on the Google Play Store
Publications and Catalogue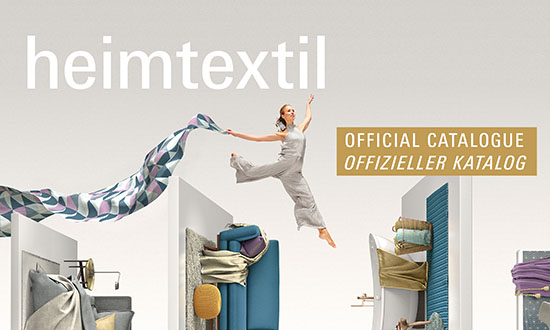 Use the official catalogue to gain a complete and efficient overview of all exhibitors at the Heimtextil. Detailed information will support you for the preparation and review of your visit. The catalogue is going to be published a few weeks before the start of the fair as a print and a PDF version as well as an e-catalogue.
Heimtextil Catalogue as a print and a PDF version
During the Heimtextil the print catalogue is available on the fairgrounds (at the cash registers). However, you can pre-order with costs the print and PDF version of the catalogue before the start of the Heimtextil.
With the e-catalogue, you can consult the entire contents of the catalogue, such as the list of exhibitors and list of products (including details of the exhibitor) along with other information (exhibitors' videos and additional images), on your mobile devices. Once you have downloaded the app, the contents will also be available offline.