Heimtextil is the industry's most important global event for interior textiles, interior design and interior trends. With its new products and trends, it kicks off the upcoming season and gives important impulses to both exhibiting companies as professional visitors from all over the world.
Figures for Heimtextil 2023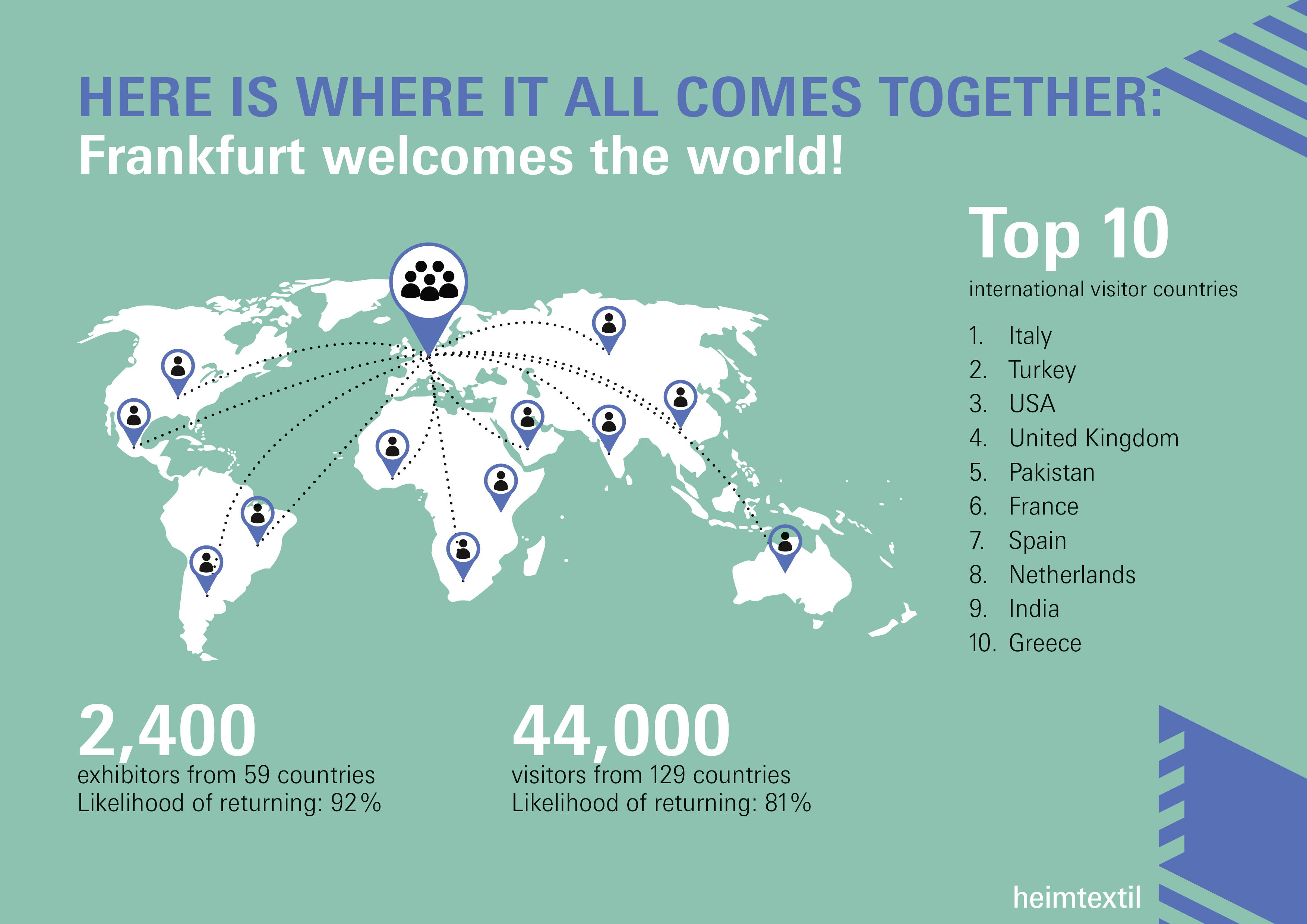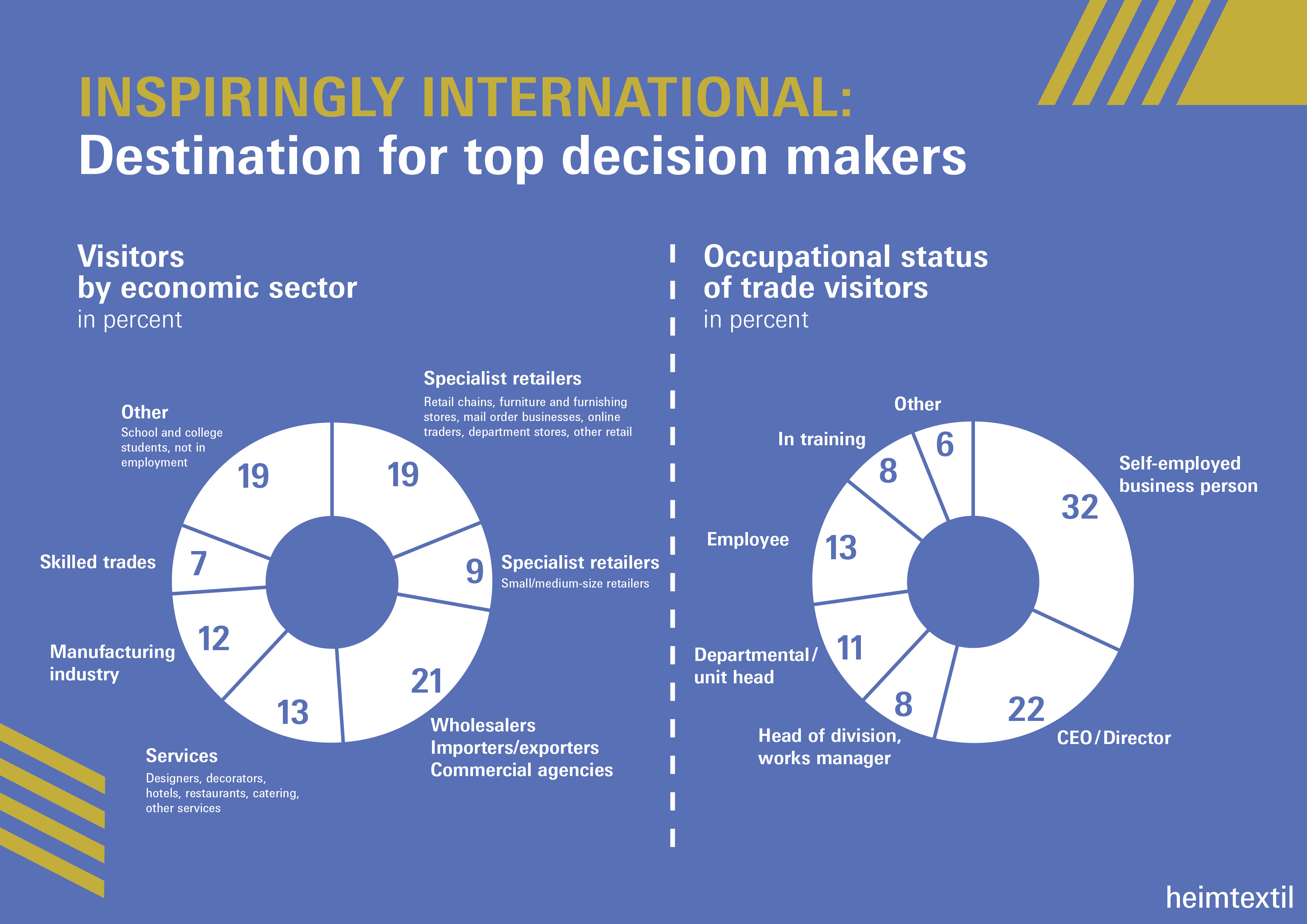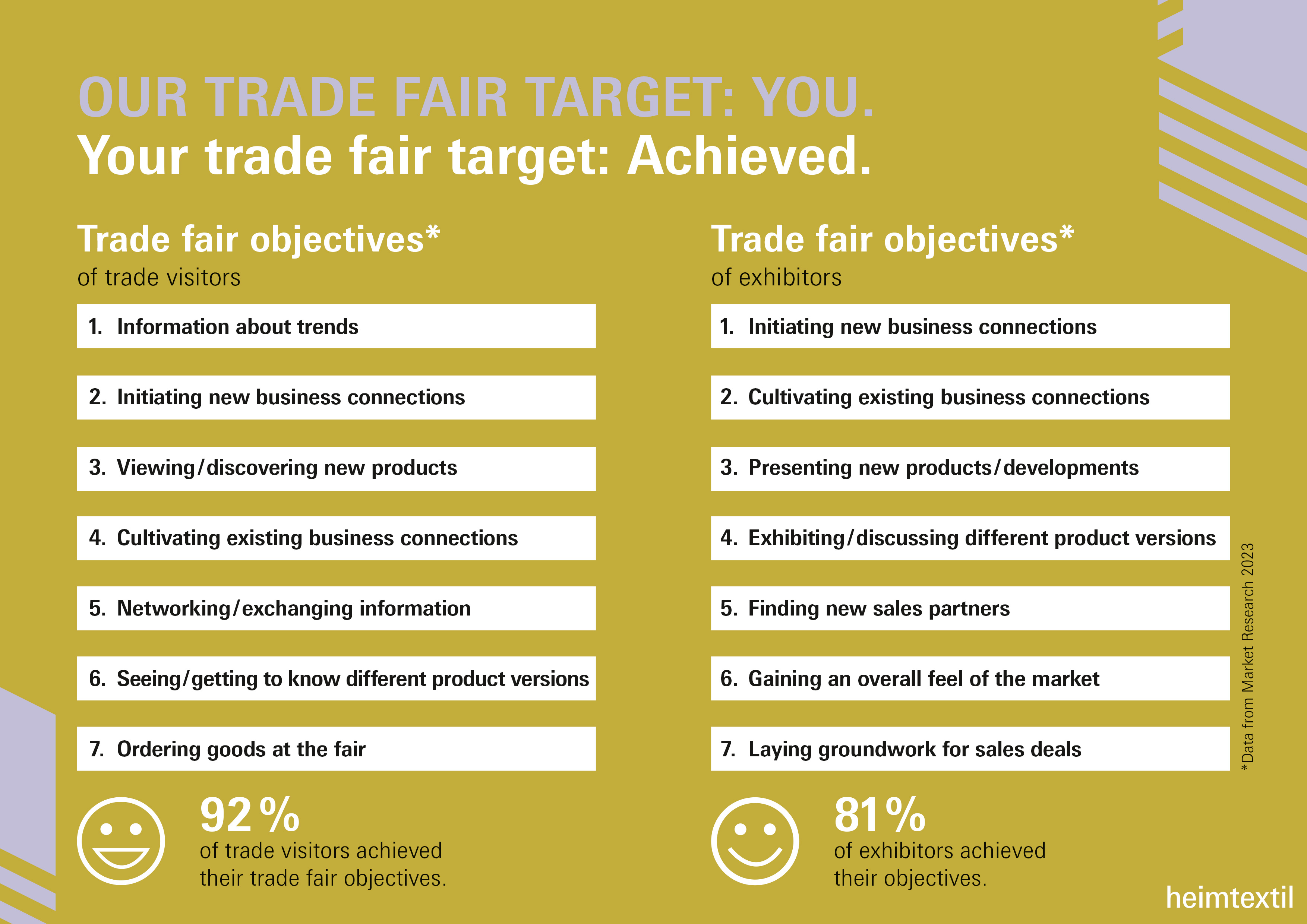 Heimtextil product groups
Advisory board
The Heimtextil exhibitor's advisory board comprises renowned international experts from industry, associations and higher education institutions.
Alfred Apelt GmbH
An der Rench 2
77704 Oberkirch
Mr Ottmar Ihling
www.apeltstoffe.de
Betten-Lenth GmbH    
Schiffenberger Weg 76
35394 Gießen
Mr Dr Peter Nagel
www.betten-lenth.de
E. Breuninger GmbH & Co.
Marktstr. 1-3
70173 Stuttgart
Ms Linda Steinhuber
www.breuninger.com
BTE – Bundesverband des Deutschen Textileinzelhandels e.V. (Federal Association of German Textile Retailers)
VDB – Verband der Bettenfachgeschäfte (Association of Specialist Bedding Stores)
An Lyskirchen 14
50676 Köln
Mr Axel Augustin
www.bte.de

bund deutscher innenarchitekten bdia e. V.
Wilhelmine-Gemberg-Weg 6
10179 Berlin
Ms Pia Döll
www.bdia.de
Essenza Home
Landwehr 25
46325 Borken
Ms Cornelia Loos
www.essenzahome.de
fan frankenstolz Schlafkomfort H. Neumeyer gmbh & co. KG
Industriestraße 1-3
63814 Mainaschaff
Mr Stefan Sickenberger
www.frankenstolz.de
Heinrich Häussling GmbH & Co.
Branchweilerhofstraße 200
67433 Neustadt a. d. Weinstraße
Mr Markus Ertel
www.haeussling.de
IVGT – Industrieverband Veredlung - Garne - Gewebe - Technische Textilien e.V. (Industrial Association for Finishing - Yarns - Fabrics - Technical Textiles)
Mainzer Landstraße 55
60329 Frankfurt am Main
Mr Dr Klaus-Jürgen Kraatz
www.ivgt.de

MHZ Hachtel GmbH & Co.KG
Sindelfinger Strasse 21
70771 Leinfelden-Echterdingen
Mr Martin Bork
www.mhz.de

VDT – Verband der Deutschen Tapetenindustrie e.V. (Association of the German Wallpaper Industry)
Berliner Allee 61
40212 Düsseldorf
Mr Karsten Brandt
www.tapeten.de

VDFI – Verband der Deutschen Daunen- und Federnindustrie e.V. (Association of the German Down and Feather Industry)
Thomas-Mann-Straße 9
55122 Mainz
Ms Dr Juliane Hedderich
www.vdfi.de

Verband der Deutschen Heimtextilien-Industrie e.V. (HEIMTEX) (Association of the German Home Textile Industry)
Hans-Böckler-Straße 205
42109 Wuppertal
Mr Martin Auerbach
www.heimtex.de
Wölfel & Co GmbH & Co. KG    
Sandwiesenstraße 1    
64665 Alsbach-Hähnlein
Mr Claus Wölfel
www.woelfel-gardinen.de
Zentralverband Raum und Ausstattung (ZVR)
Luxemburger Str. 107
50939 Köln
Mr Ralf Vowinkel
www.zvr.de
Dina/Vanelli Tekstil Sanayi ve Ticaret A.S.
Org. San. Böl. Gri Cad. 2. Sok. No: 2/3
16140 Nilüfer/Bursal
Turkey
Mr Erol Türkün
www.vanelli.com.tr
IGI – The Global Wallcoverings Association
Chaussée de Louvain 426
1380 Lasne
Belgium
Mr Pascal Siellet
www.igiwallcoverings.org
Lameirinho - Indústria Téxti , S.A.
Apartado 3007 Pevidém
4836-852 Guimarães
Portugal
Mr Paulo Coelho Lima
www.lameirinho.pt

Lenzing Aktiengesellschaft
Werkstraße 2
4860 Lenzing
Austria
Mr Florian Heubrandner
www.lenzing.com/de/
Mario Cavelli S.r.l.
Via Baden Powell 9
21052 Busto Arsizio (Va)
Italien
Mr Matteo Cavelli
www.mariocavelli.it

UK Fashion and Textile Association (UKFT)
3 Queen Square
London WC1N 3AR
Großbritannien
Mr Paul Alger
www.ukft.org
Heimtextil in the context of the Sustainable Development Goals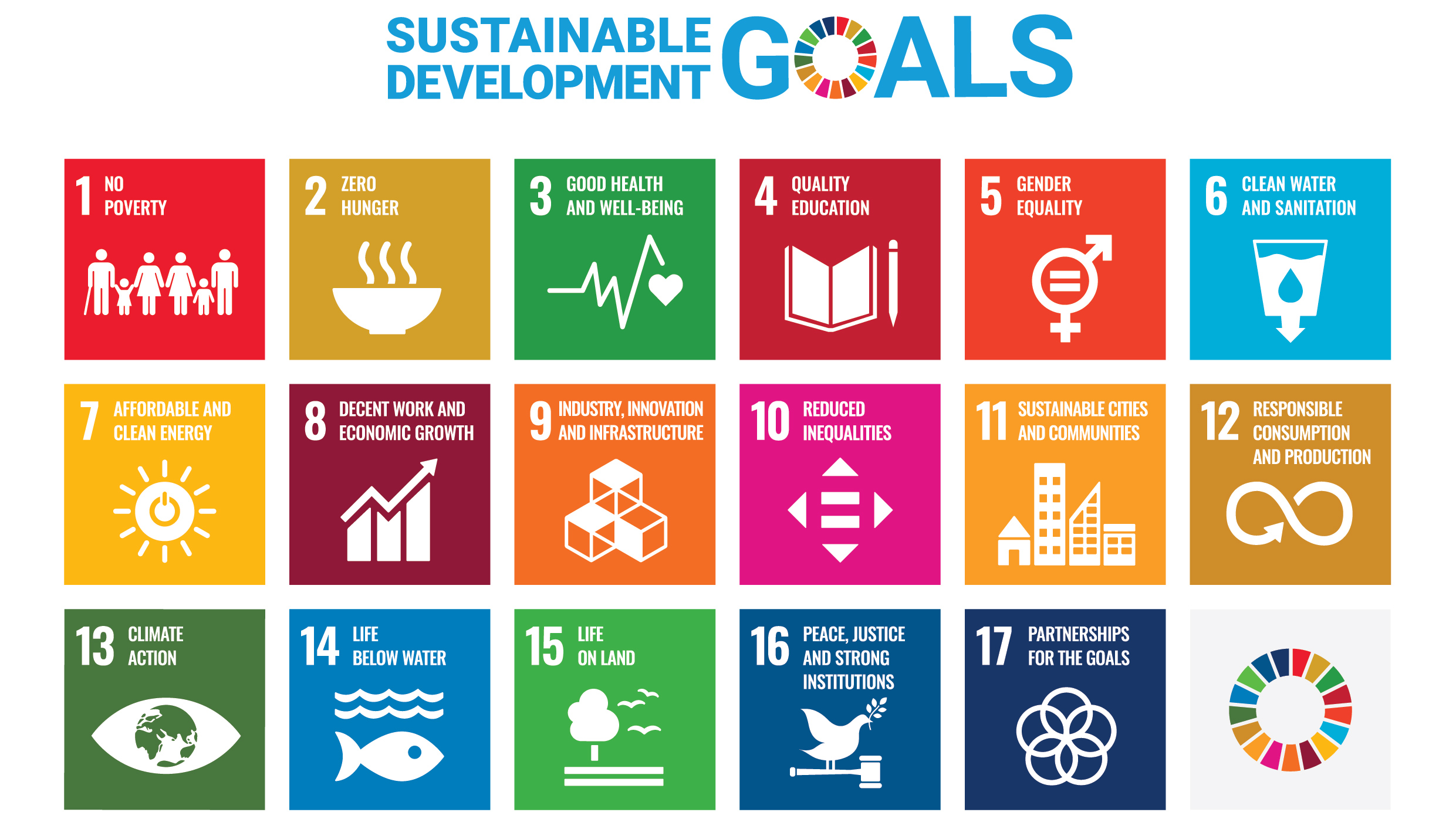 Heimtextil is part of the Messe Frankfurt Texpertise Network which is committed to accelerate innovation and change within the textile and fashion sector to advance the Decade of Action to deliver the Sustainable Development Goals by 2030. Our sustainable business practices are in keeping with the ten principles of the UN Global Compact and the United Nations 17 Goals for Sustainable Development. We are integrating sustainability into more and more aspects of our activities while gradually expanding their reach.