Around 100 exhibitors have signaled strong interest in our Carpets & Rugs product segment, which will cover the entire hall level 5.1. Don't miss out on this wide range of products. Experience exhibitors from Egypt, Belgium, Bangladesh, China, Greece, India, Italy, Turkey and other manufacturing countries.
Product variants
fitted carpets
handmade carpets
custom-made carpets
machine-made woven carpets
mats and dirt-absorbing carpeting
rugs and runners
Frankfurt am Main: networking hub of the global carpet business
With Frankfurt am Main as an international trading hub and its worldwide reach through direct flights, all trade show participants benefit from the optimal accessibility of the site. "We are very pleased about the strong presence of international manufacturers, whose pronounced degree of professionalization, outstanding quality and strong commitment to environmental protection and corporate social responsibility play a significant role in the global carpet business. The high degree of internationalization at Heimtextil enables them to network, especially with new contacts from relevant sales markets such as North America, Europe or the UAE," says Bettina Bär.
Hall 5 opens for the first time at Heimtextil 2024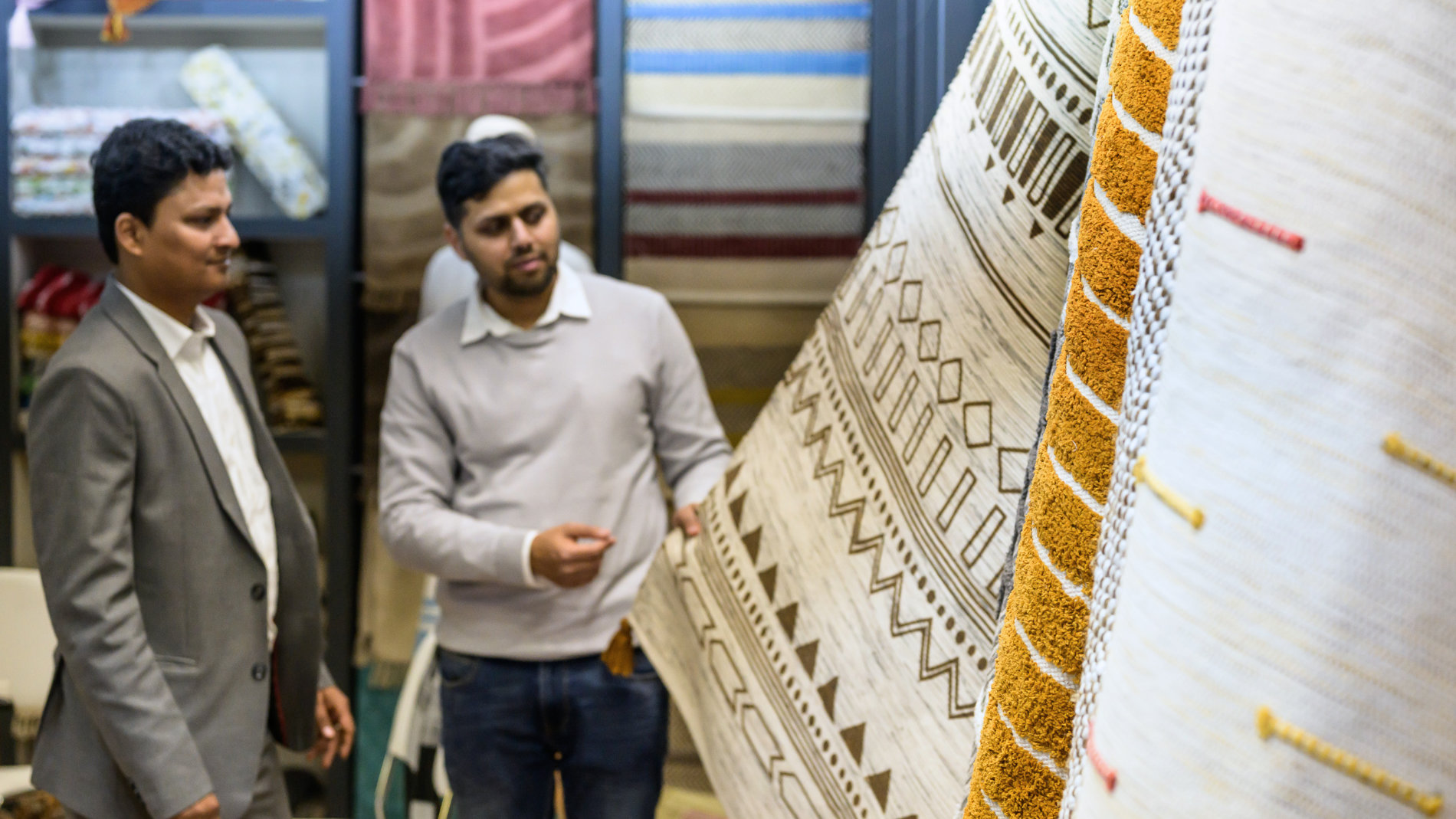 From hand-woven designs to machine precision: in the new product segment, all buyers and decision-makers from furniture stores, the carpet trade, DIY stores and specialist shops can immerse themselves in the diverse artistry of hand-woven carpets.
The participating exhibitors include Indian manufacturers such as Rugs Inc, Mittal International, The Rug Republic, Sarla Handicrafts and new exhibitor Harkom Setabganj from Bangladesh.
Other new exhibitors from India are Flora International, Heritage Overseas, Rugs in Style and Vini Decor. In addition, coconut floor mat manufacturers such as Classic Coir Factory, Floor Decor, Fibre World and new exhibitor Tufko from India will present their functional and non-slip designs.
Another focus is on manufacturers of machine-woven carpets, which are characterised by durable designs and the use of precision technology. Exhibitors in this area include the Egyptian Oriental Weavers Group (Oriental Weavers, Mac Carpet, Egyptian Fibres Company), Ragolle Rugs (Belgium), Verbatex (Belgium), Fedustria (Belgium), Merinos Hali San (Turkey), Nikotex Carpets (Greece) and the Italian manufacturers Fini Cop and Royaltex.
"We return to Heimtextil with high expectations - and are sure that these will be exceeded with the launch of Carpets & Rugs. It's a great opportunity to present our new sustainable, handmade product collections for indoor and outdoor use. Thanks to the high internationality of Heimtextil, we are looking forward to new global contacts."
"The high number of new exhibitors underlines the positive response to the launch of the Carpets & Rugs product segment and offers buyers the opportunity to network with completely new suppliers. This consolidation makes Heimtextil an even more diverse and comprehensive business platform", says Bettina Bär, Heimtextil Director Home textiles."