Get the WOW factor at Heimtextil, the world's leading trade fair for home and contract textiles. Extensive knowledge of the bedding trade will bring your business success. That can only come first-hand from reliable, cutting-edge information – exclusively available at Heimtextil. This fair now represents the whole bedding trade worldwide, and our expanded 2023 offer means you can look forward to perusing international products.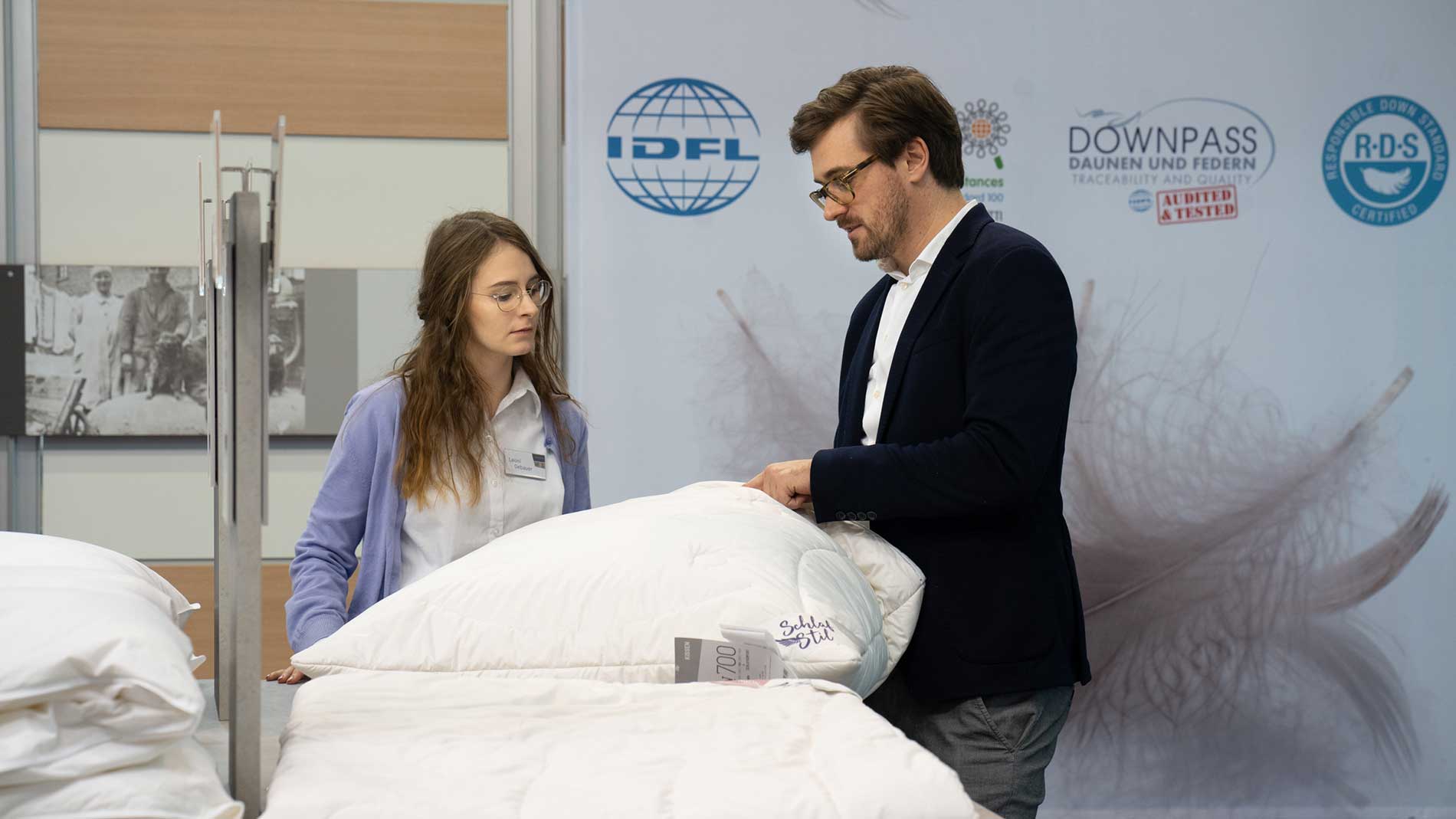 Your focus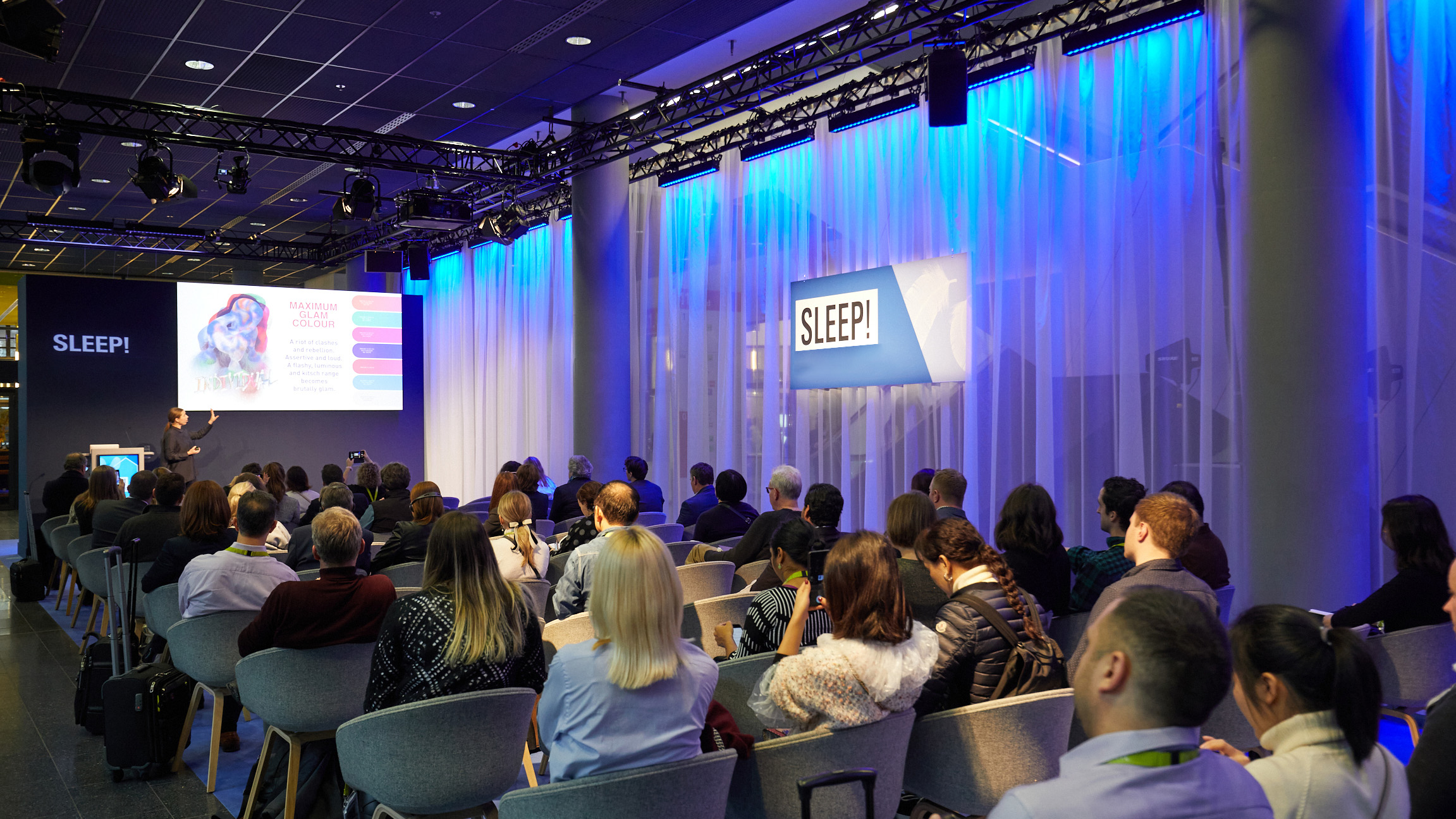 WOW your senses with your own curated highlights. To make your visit truly worthwhile, we'd like to recommend unmissable attractions from our programme, especially for you.
International product range
Look out for well-known exhibitors like Aro Artländer (from Germany), John Cotton (from the UK), Lenzing (from Austria), OBB (from Germany) and Walter Moosburger (from Austria) who will present their ranges in Hall 11.0 – Smart Bedding.
Heimtextil Conference: Sleep & More
What's the secret behind a good night's sleep? And which textile furnishing solutions, sustainable materials and bed linen will give good-quality sleep within your own four walls? The Heimtextil Conference: Sleep & More in Hall 11.0 will gently illuminate these and other questions.
Dr Hans-Günter Weeß from The German Sleep Society (DGSM) will be speaking about 'When sleep is not restful'. Our conference lineup also includes Dr Christian Benedict from Sweden and Dr Albrecht Vorster from Switzerland.
Heimtextil Conference: Sleep & More  
New: Sleep Tours in Hall 11.0
New for 2023 are daily tours round the latest in Smart Bedding. Respected sleep expert Markus Kamps will lead these, focusing on bedding and mattresses.
Haustex Star awards in Hall 11.0
At Heimtextil, Thursday is the day for sleep, culminating as it does in the Haustex Star award ceremony. The prize for this year's best bedding trade retailers will be awarded on 11 January. Top-quality mattresses, bedding and more are the key to relaxation and healthy sleep. Our Haustex Star bedding retailers of the year are already sharing this message with their satisfied customers.
More highlights of Heimtextil 2023
Heimtextil Trends 23/24
Heimtextil Trends, the beating heart of Heimtextil, are based in Hall 9.0 with essential market developments and future textile trend predictions. Textiles matter here, as megatrends are translated into textile visions. Why not visit Heimtextil Trends and expand your knowledge of textile materials?
Daily guided tours of the Trend Space in Hall 9.0 will be conducted by FranklinTill Studio, please check the event programme.
Heimtextil Trends 23/24
Sustainability.Mindset.Responsibility.
Heimtextil has the latest sustainability-related steps and offerings for you to experience in-person.
Green Village
In Hall 12.0 you'll find certification and labelling bodies, plus companies who are committed to sustainability. Visitors with an interest in this will hear answers to their questions and up-to-date information on the latest developments.
Green Tours
Hour-long Green Tours beginning at the Green Village in Hall 12.0 guide trade visitors together with selected exhibitors. This makes for rich exchanges about the latest developments in 'green' textiles. One great thing about Green Tours is that your guide will be an independent advisor with an important outside perspective. This gives greater depth to the dialogue between visitors and exhibitors.
All your Bed'n Excellence benefits at a glance:
Access to all days of the trade fair
Free use of public transport to and from the fair using the Rhein-Main-Verkehrsverbund network (RMV)
Personal assistance from the Welcome Desk in the Sleep Area in Hall 11.0
Free cloakroom service
Free exhibition catalogue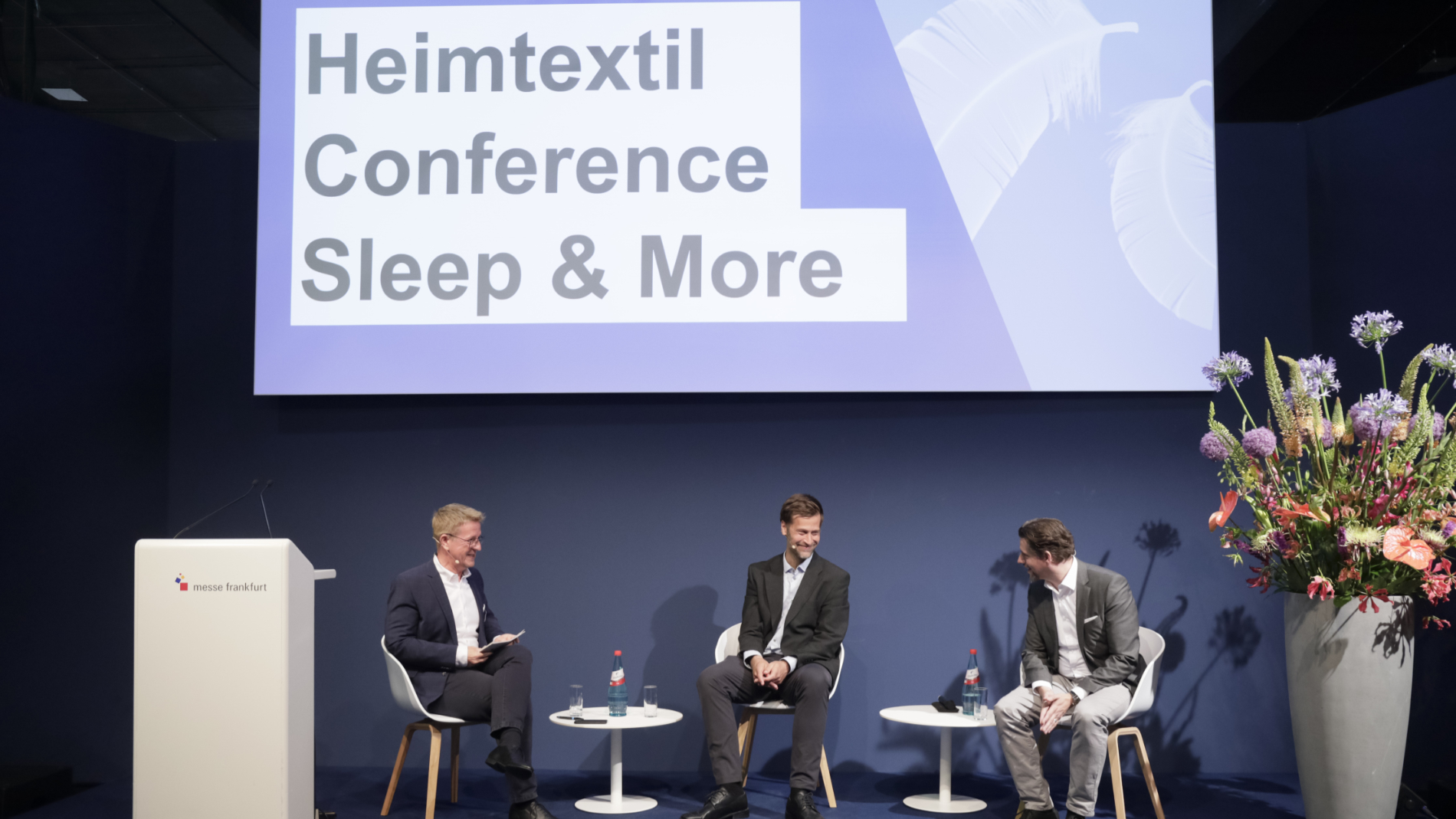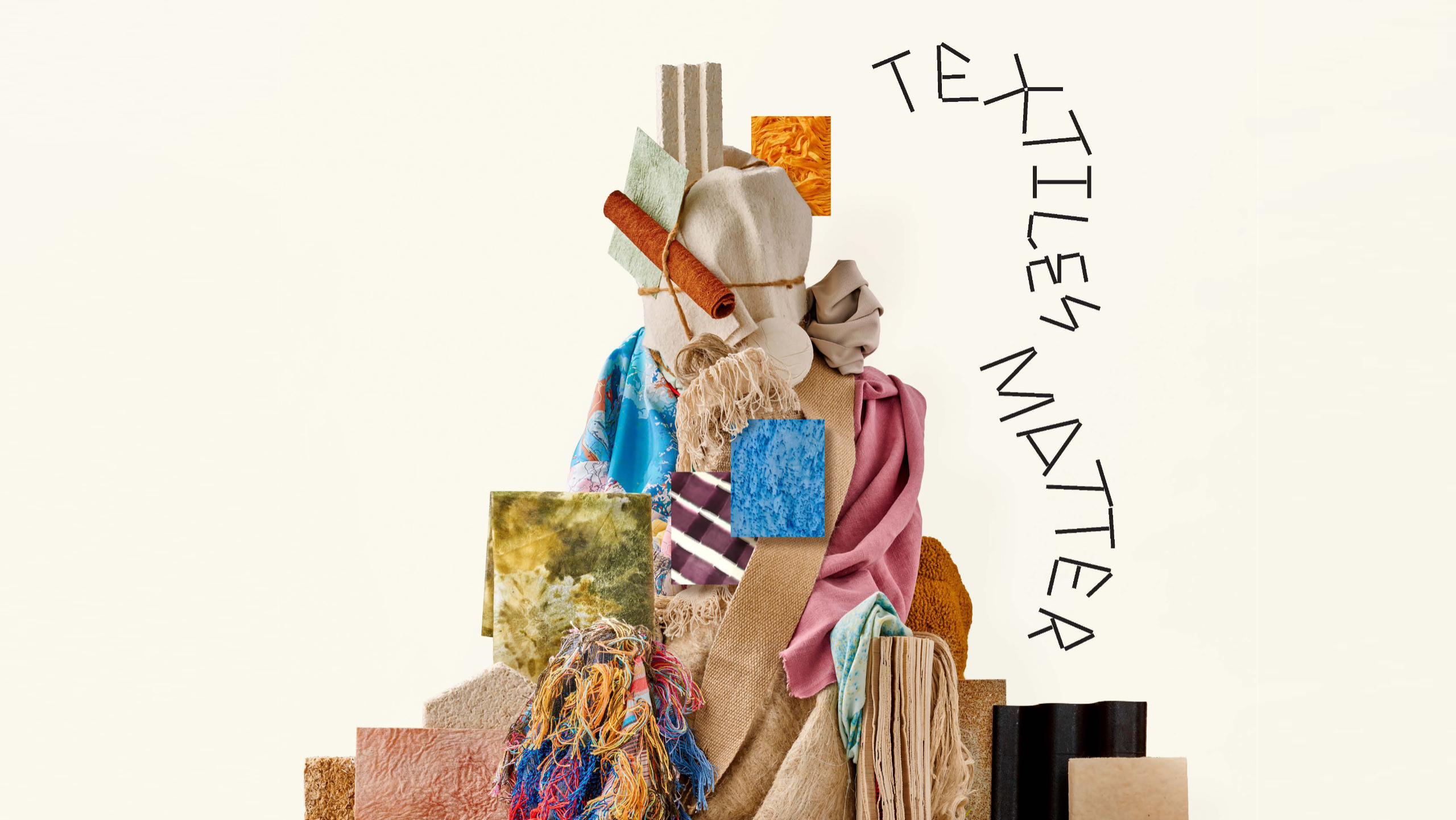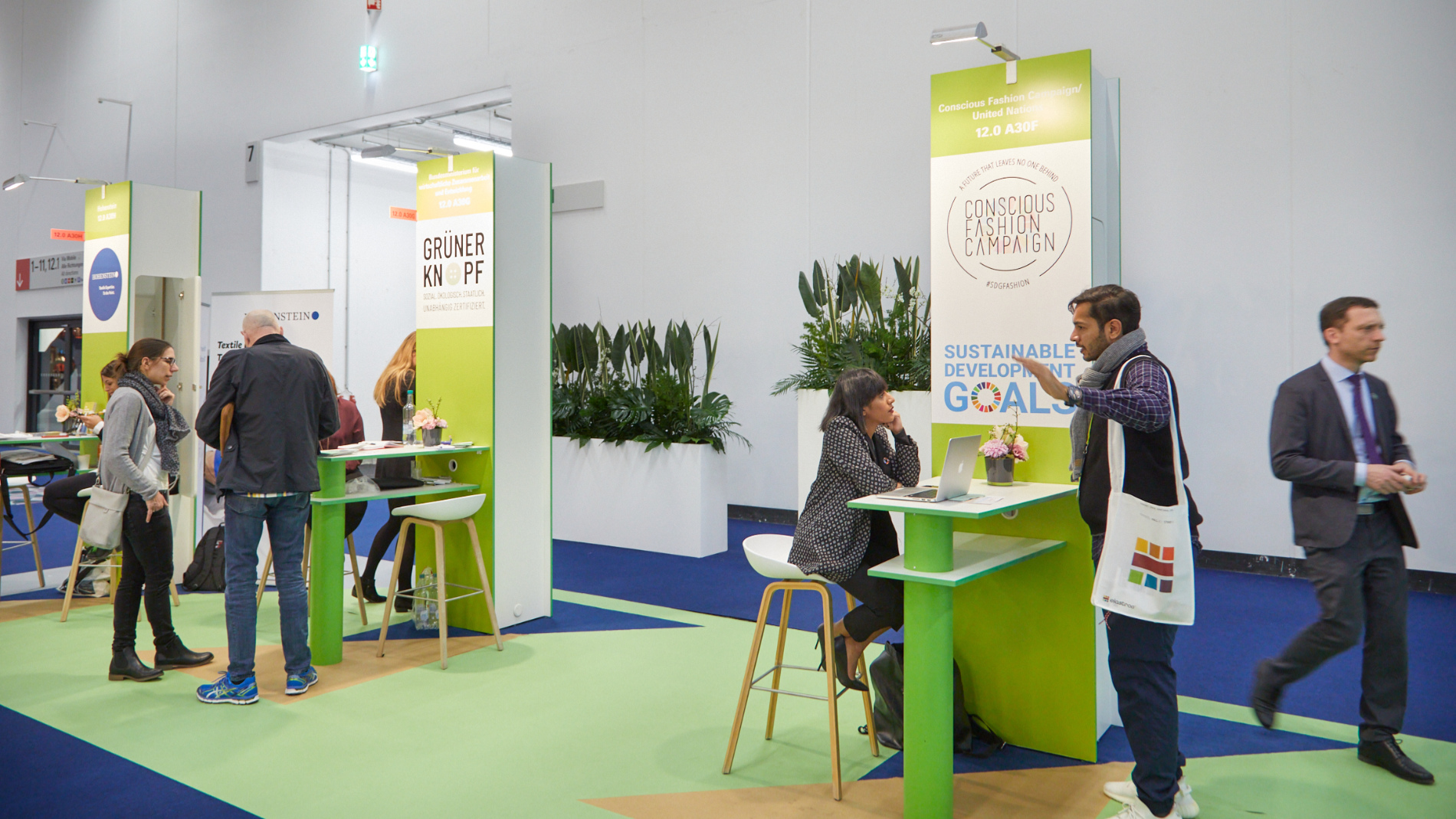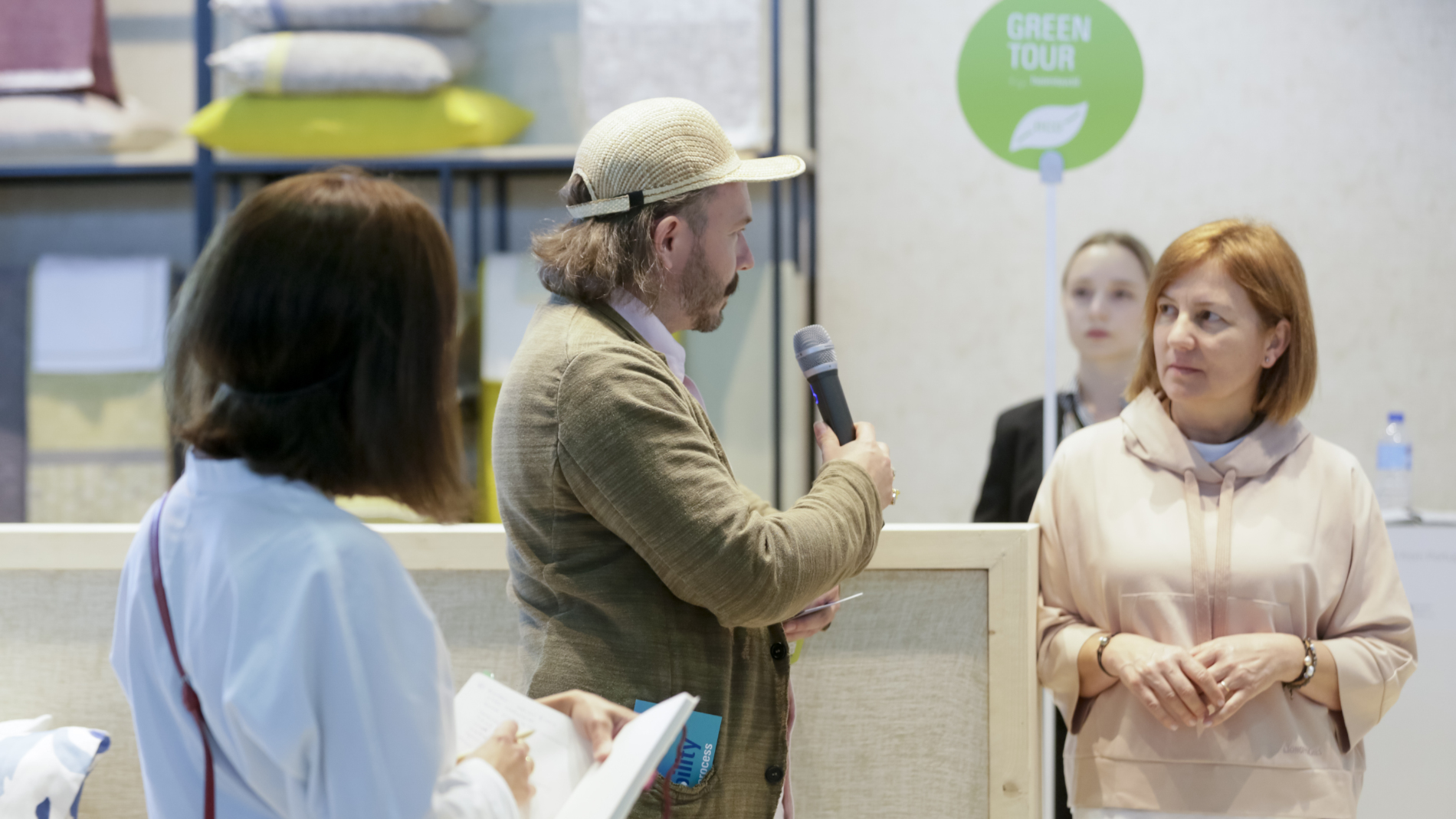 Register online now
Register as an member of Bed'n Excellence for great benefits, free of charge. Please note: if you are a bedding retailer who's already registered, there's no need to register again. Please pre-register and we will invite you. 
(Status: 09/2022)
1. Scope of application
(1) The service provided by Messe Frankfurt Exhibition GmbH (hereinafter referred to as Messe Frankfurt) shall be subject to the following membership conditions. By completing the registration process, the member accepts these terms and conditions of use.
(2) Only bed dealers are admitted to free membership of the Heimtextil Bed'n Excellence benefits package. Bed dealers and employees of bed dealers are commercial buyers of goods exhibited at the Heimtextil fair, as well as employees of bed departments, buyers of additional ranges and central buyers of furniture stores with annual sales of up to € 5 million.
(3) Membership of the Heimtextil Bed'n Excellence benefits package is free of charge.
2. Registration
(1) Membership of the Heimtextil Bed'n Excellence benefits package must be applied for online in advance. As part of the online registration, personal data (such as the company name, the individuals name, address, email address, phone number) will be collected in compliance with the statutory data protection provisions.  

(2) The member undertakes to provide all information about the company and his or her person required for membership in a complete and truthful manner. The member shall promptly communicate any subsequent changes to Messe Frankfurt by sending an email to bednexcellence@messefrankfurt.com of Messe Frankfurt.
(3) Messe Frankfurt reserves the right to deny membership applications. The amount of members is limited.
(4) ) Following the registration, Messe Frankfurt determines whether the applicant meets the target group definition provided above. Then, the applicant will be provided with an email that states whether membership in Heimtextil Bed'n Excellence has been approved or denied, because the applicant is not a member of the trade visitor group above or if the maximum membership number has been reached.

(5) Messe Frankfurt regularly checks whether the member continues to meet the required target group definition.
(6) Messe Frankfurt will inquire in advance about the member's interest in participating in Messe Frankfurt events. Based on this, the member will receive its service package for the respective event. In the event of interest in an event at short notice, the member may contact Messe Frankfurt by e-mail at bednexcellence@messefrankfurt.com. Participation in the event is not possible without prior expression of interest.
(7) By registering, the member acknowledges the event-related special provisions.
3. Benefits
(1) The benefits of the Heimtextil Bed'n Excellence package are listed on the Heimtextil website.
(2) The benefits will only be made available to the member personally. It is expressly forbidden to transfer them to third persons in any way. There shall be no claim to a payout or any other type of compensation. Furthermore, there shall be no claim to the availability of services in connection with an event organized by the Messe Frankfurt Group. Messe Frankfurt shall be entitled at any time to limit and to partially or completely discontinue any services offered by  Heimtextil Bed'n Excellence.
4. Termination of membership
(1) Membership shall be indefinite. Messe Frankfurt may terminate membership at any time with a notice period of 14 days.
(2) Messe Frankfurt may terminate membership for cause at any time even without compliance with the notice period, especially when
a) the membership criteria are not or no longer met,
b) the member provided incorrect information at the time of registration,
c) the member has violated these terms and conditions,
d) the continuation of the membership is unacceptable to Messe Frankfurt.
(3) The member may terminate membership at any time effective immediately by sending an email to bednexcellence@messefrankfurt.com. Messe Frankfurt shall be entitled to use the member's information, if necessary, until membership has been settled completely.
(4) The membership relationship shall cease to exist if the member does not attend the same event three times in succession and has not made use of the services offered by Heimtextil Bed'n Excellence. The member may re-register at any time. In that event, Messe Frankfurt shall verify once more that the aforementioned target group definition is met.
5. Memeber Obligation
As soon as a member becomes aware that third parties are misusing the membership data, said member shall be required to inform Messe Frankfurt immediately.
6. Audio and video recordings
The member agrees with regard to all current and future media that in the context of the attendance of the Heimtextil Bed'n Excellence, Messe Frankfurt or a commissioned third party shall, free of charge, be entitled to create images of their person and to completely or partially process them, and to copy, transmit, display, and use them in audiovisual media also in their processed form, with these rights extending beyond the reporting of the events of the day; in particular, but not exclusively to advertise the Heimtextil Bed'n Excellence and Messe Frankfurt and the companies affiliated with Messe Frankfurt within the meaning of Section 15 AktG (Aktiengesetz) [German Stock Corporation Act].
7 Liability
(1) With the exception of gross negligence and intent, Messe Frankfurt shall not be liable for any defects of material or title (in particular the accuracy, freedom from errors, freedom from third-party proprietary and copyrights, completeness and/or usability) of the free services and information provided by Heimtextil Bed'n Excellence.

(2) Messe Frankfurt expressly distances itself from the content of third-party websites which have direct or indirect links from the Heimtextil Bed'n Excellence website. Messe Frankfurt is not liable for these contents and websites. Only the providers of the respective websites are responsible for the content of these websites.
8. Changes to the terms and conditions  of use
Messe Frankfurt reserves the right to change the terms and conditions of use. This shall apply in particular if a change is necessary due to mandatory statutory regulations. These changes shall be communicated to the member by email or in a newsletter. They shall be deemed as approved unless the member objects within 14 days either by mail or email. In the event of an objection, Messe Frankfurt shall have the right to terminate membership within one month from the receipt of the objection.
9. Possibility to objekt
Notwithstanding legal retention regulations, the member may object to the storage, processing and use of his or her data for advertising purposes at any time. To this purpose, the member may contact Messe Frankfurt by email at the following address: privacy@messefrankfurt.com. To ensure an objection to the use of data for advertising purposes can be taken into consideration at any time, the objector's data is kept in a revocation list.
10. Final provision
The law of the Federal Republic of Germany shall apply; the place of jurisdiction shall be Frankfurt am Main.
*Bed'n Excellence is aimed exclusively at owner-managed bed retailers and bed specialist retailers who focus on bedding and trousseau products. Other customer groups are excluded from this offer.